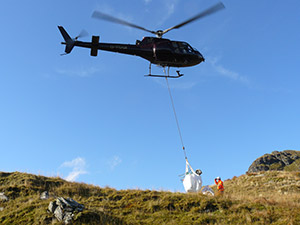 Greenfield
We have vast experience in the construction of Greenfield telecoms sites. Having built sites for all the operators, and in all situations, there is a not a scenario that we haven't dealt with previously, including
Helicopter access to sites high up a mountain side in Scotland, or across wet land with our tracked dumpers and excavators.
We are Arqiva approved contractors and are able to work on Arqiva sites unsupervised.
Our teams are certified to work on National grid and Gas compound sites.
Our teams have an enviable reputation in delivering top quality sites in the most difficult situations. We can deliver all the civils aspects of the build from initial excavations and utility ducting, through steelfixing, concrete finishing, Lightning protection systems, fencing of all types, compound construction, overhead gantry work, road building, and landscaping.